Top Tips to Hire Custom iOS App Development Company in 2023
Technology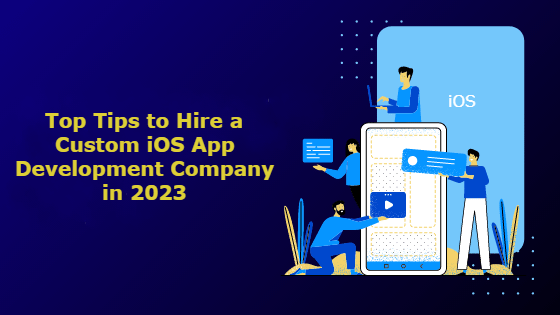 iOS is the most preferred choice for creating mobile apps, considering its feature quality and profitability. Even if you have a clear idea about the app, you will need assistance to build one. This is where a custom iOS app development company comes into the picture. But choosing the right firm that aligns with your requirement is also essential.
Start by compiling a list of the top 5 or 6 businesses you can discover online or through references. But before choosing one of them, ensure you properly verify their past work, client feedback, and several other aspects. To help your research process, here are the top 5 tips for choosing the best company.
5 Tips to Choose Custom iOS Application Development Company in 2023
Evaluate Technical Expertise and Portfolio
The major thing to evaluate when choosing a custom iOS app development company is their experience and technical expertise. You want to work with a company with a proven record of delivering high-quality iOS apps. You can also check their background by scanning their portfolio of past work. This will help you select a company having experience working with businesses in your industry.
The ideal company will have experience using the latest iOS development technologies and tools. They will also be familiar with the latest iOS app development frameworks such as SwiftUI, UIKit, and Core Data.
Check Client Feedback
To know more about the company market image and their past work, make sure to check client feedback. Either search their website to find testimonials or check third-party websites to verify their past client reviews. After reading reviews and testimonials you will get an idea about their ability to meet deadlines, past works, and quality of their services. This way you can narrow down your list and move forward with the companies who best align with your app requirements.
Assess Development Process
The development process of an iOS app is critical to its success. Before choosing custom iOS app development company services from a company, learn in detail about their development process. A reliable company should have a well-defined process that includes product strategy, app testing, regular communication, project management, and ongoing support. Also, ensure they follow industry best practices such as agile methodology, enabling them to deliver quality products within deadlines.
Analyze Communication Process
Communication is essential when working with a custom iOS app development company. Ensure the company has a transparent process for communicating with you throughout development. They should provide you with regular updates on the app's progress and be available to answer any questions or concerns you may have. They should also provide complete details about their communication channels and how you can reach them whenever required (even after the project is delivered).
Check Pricing and Timeline
Every business wants to work with a company that can deliver the app within your budget and timeline. Hence, it's essential to consider the cost and timeline when taking iOS app development services from a company. Ensure they provide a clear and detailed estimate of the project's cost and timeline. However, make sure they do not compromise the quality for low cost and a faster timeline. Also, look for any hidden charges before finalizing the deal.
Conclusion
Choosing the right iOS app development firm can be a difficult task, but it is essential to the success of your mobile app. Following the tips above, you can evaluate potential iOS app development companies and make an informed decision. Remember to check their portfolio and experience, assess their development process, evaluate their technical expertise, check their client references, and discuss the budget and timeline before finalizing a company.
---